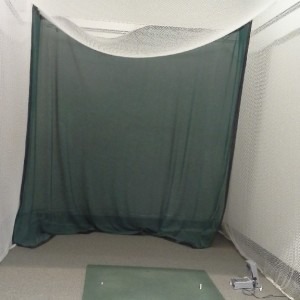 Golf Baffle Specials
Duluth Nets offers discounted Golf Baffles.  These nets are made from heavy duty Archery Netting, either white or green.
These baffles are the same material as our premium Golf Baffles but have 2-3 seams.
Golf Baffles are commonly used with Golf Cages to absorb the majority of the golf ball's impact thus extending the life of the cage. Baffles are commonly hung within the cage one foot from the back wall. Baffles are made one foot taller than the cage to provide some overlap on the ground.
Vinyl borders with grommets along one edge spaced every 12″ for hanging.

Made of a durable mesh and designed for durability and longevity.

Made in the USA.
Custom rigging including cables, rings, and snap links are available.
Request a quote for more information and custom pricing.