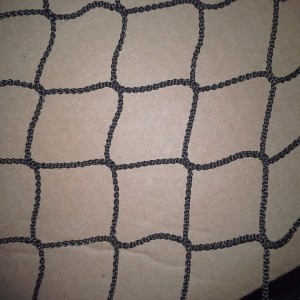 Hockey Barrier Nets
Duluth Nets stocks several standard size Hockey Barrier Nets.  Choose between:
1-1/2″ Square #420 Knotless Nylon Netting
1-1/2″ Square #21 Knotted Nylon Netting
Netting Specifications:
Netting is secured to a Braided Polypropylene Rope border with loops on the corners
Spiral tied every mesh and secured every 12″
Option: Black Net Coat Treatment for UV Resistance and additional protection
Duluth Nets recommends net coat treatment on nets that will be left outside for any duration of time.
Custom rigging including vinyl borders, grommets, cables, rings, and snap links are available.  Please request a quote for more information.